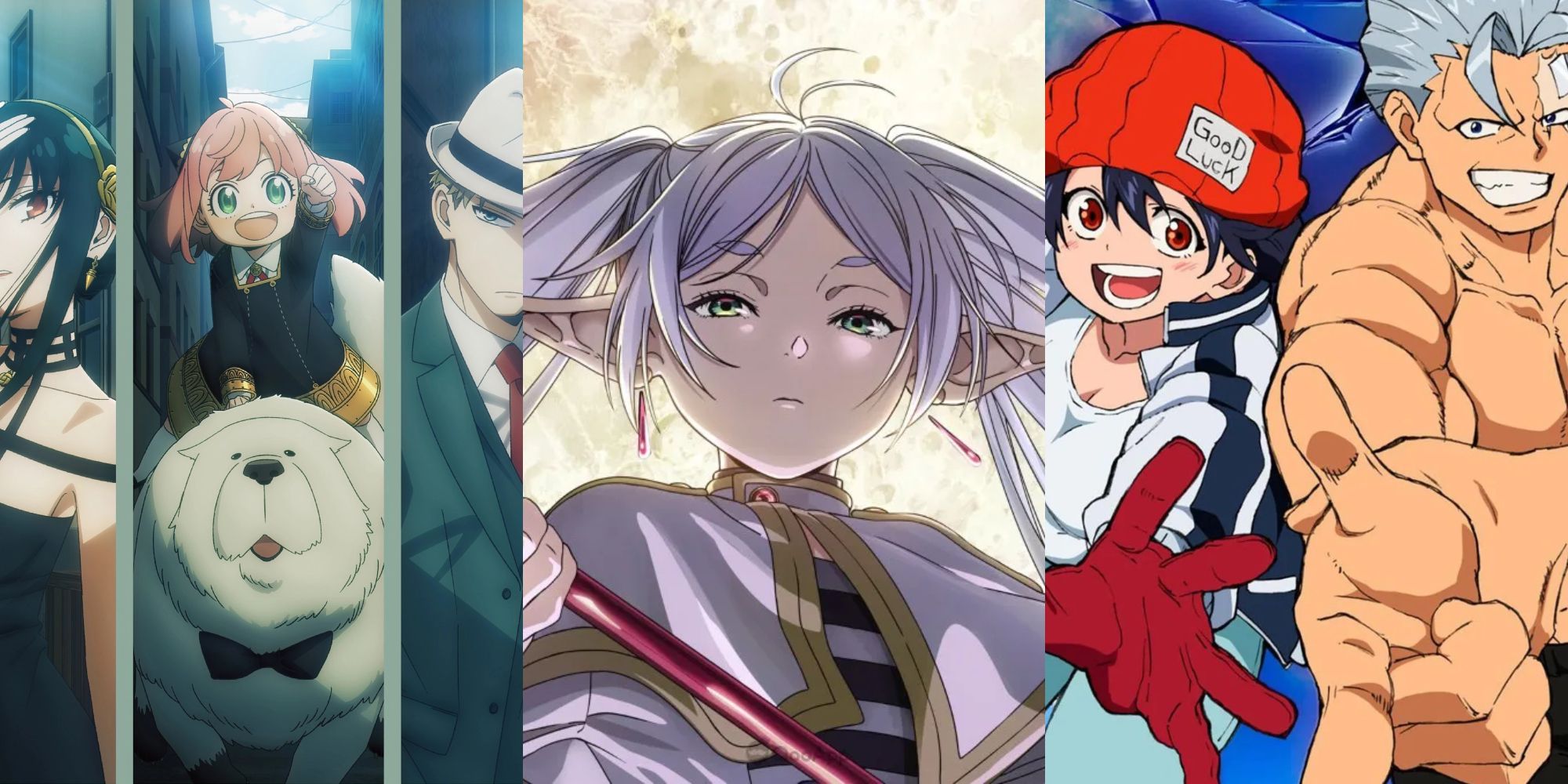 As the leaves change color and the temperature cools down, the world of anime enthusiasts is heating up with excitement. Fall 2023 is poised to be a fantastic season for anime, with a diverse array of shows spanning various genres and appealing to audiences of all ages.
From long-awaited sequels to promising newcomers, the fall anime season promises something for everyone. Here, you'll explore some of themost anticipated anime of Fall 2023, offering a glimpse into the captivating worlds, intriguing characters, and thrilling storylines that await you.
Prepare yourselves for the next autumn season feast, anime enthusiasts! The debuts of both old classics and brand-new adaptations have fans on the edge of their seats. Just a few of the captivating stories that await viewers include an eternal elf plagued with regrets and a detective team solving odd crimes.
Shy is another much-awaited anime for the autumn of 2023. Shy is a superhero story that follows a socially awkward protagonist who aspires to be a superhero, similar to My Hero Academia.
However, Shy has a much stronger emphasis on human drama and borrows more from magical girl anime and tokusatsu conventions than it does Western superhero stories.
It's a highly original take on the rapidly expanding superhero manga genre, and based on the anime previews that have been published, it will be handled well.
New World Part 2 is another sequel that you have on your list of the best upcoming anime for Fall 2023. The Kingdom of Science and Senkuu are very close to discovering the cause of the petrification.
They are prevented from learning about the technology that wiped out modern civilization more than three thousand years ago by a number of threats that lie in wait for them. The first episode will air on October 12, 2023.
It is based on a well-known manga written by Kanehito Yamada and illustrated by Tsukasa Abe. During the 25th Tezuka Osamu Cultural Prize Awards in 2021, the manga took up the New Work Prize.
The four heroes split up and go their ways as the plot picks up after the demon king is vanquished. Frieren, an elf who lives far longer than humans, is one of them, and she sees her friends die.
Frieren sets off on another quest to face her past mistakes with a friend by her side. On September 29, 2023, the series is expected to begin.
Shangri-La Frontier, a blend of action and adventure with a splash of gaming, centers on Rakuro Hizutome, a second-year high school student who is only interested in one thing: discovering horrible games and defeating them.
He has excellent gaming talents. Thus, no game is beyond his enjoyment. But when Rakuro plays the most recent VR title, "Shangri-La Frontier," everything changes.
Rakuro bypasses the prologue and the game's tutorial in favor of what he does best: maxing out and diving right into the action. As the plot develops, the Shangri-La Frontier is bound to have a variety of twists and deviances. The debut of the Shounen anime is on October 1.
One of those programs, The Eminence in Shadow, employs all the well-known isekai tropes to produce something that subverts the subgenre in a darkly humorous manner. The reappearance of The Eminence in Shadow would have been at the top of my list in any other season.
Since the first season was likely the best adaptation of the plot, it wasn't only a terrific adaptation. The first season's conclusion, which further developed Cid and his opponents in significant ways, and the early chapters, which gave the supporting characters considerably greater prominence, both demonstrate how it was quick to introduce new aspects when necessary.
After almost three years of isolation, Vampire Princess Terakomari Gandesblood, also known as Komari, finally emerges from her profound sleep to learn that she has been named a Commander in the Mulnite Imperial Army.
Her squad isn't perfect since it's made up of thugs and rebels who resisted their masters at the slightest hint of frailty. Despite coming from a dynasty of powerful and renowned vampires, Komari is skinny, clumsy, and awful at magic due to her blood-free diet.
The Vexations of a Shut-In Vampire Princess, which debuts on October 7, is an underdog story that follows Komari and her dependable maid, Vill, as she stumbles her way to success as the Commander of her unit. Vill could or might not have a crush on Komari.
Ryuto Kashima, the most popular female in his school, is compelled to declare his affection for Runa Shirakawa at the start of Our Dating Story - The Experienced You and the Inexperienced Me.
Unexpectedly, the forced confession results in a first date since Runa claims she's already free and says, "Why not?" However, Runa decides to invite Ryuto to her room as soon as school is out, so the shocks don't end there.
Ryuto and Runa set out on a voyage full of firsts together despite being quite different from one another, particularly in terms of experience with love and the sorts of friends they each have.
Fuuko Izumo and Andy's story in Undead Unluck has the potential to be both touching and action-packed. Fuuko has had a disease that causes tremendous amounts of bad luck for anybody who touches her for the last ten years.
Unfortunately, her sickness has unintentionally afflicted others she looks for as well, ultimately leading to her parents' deaths. She is ready to take her life after she has finished reading her favorite manga series.
When a mysterious guy touches Fuuko as she is standing on the bridge and about to plunge, he loses his balance, falls over the bridge, and is struck by an approaching train. However, when Fuuko goes to retrieve the man's body, she finds that, like her, Andy has a unique talent that renders him eternal.
She also learns that the man's body is regenerating. While the pair vows to work together to ensure the finest possible deaths for each other, they are unwittingly being followed by an unknown group that wants to use their peculiar powers—the October 7 premiere of Undead Unluck.
The year 2023 has already been fantastic for anime, and it will only get better. In addition to some of the most eagerly anticipated debuts of the year, the following autumn anime season (which spans from October through December) will also bring some fascinating new releases that will likely go unnoticed.
This limited series, the pet project of renowned anime producer Masao Maruyama, tells the tale of Gesicht, a robot detective on the prowl for the assassin who murdered the world's most powerful robots. Urasawa's neo-noir sci-fi thriller, based on Osamu Tezuka's well-known manga Astro Boy, is regarded as one of the finest comics of its time; there are high hopes for this new anime to succeed.
Each of the eight episodes of the series will last around 60 minutes and will be directed by Toshio Kawaguchi (animation director for Ghost in the Shell: Arise). Studio M2 and Tezuka Productions will also co-produce the show. According to the teaser trailer used to reveal the launch date, the six-year wait will have been well worth it for this mammoth production.
This autumn, Science Saru (Keep Your Hands Off Eizouken!, Devilman Crybaby) will release Scott Pilgrim, the romantic action comedy series created by Bryan Lee O'Malley, in an anime format for the first time.
Despite being based on O'Malley's 2004 graphic book series, Scott Pilgrim Takes Off won't be a faithful recreation of the 20-something bass player's quest to conquer Ramona Flowers' seven villainous ex-boyfriends. According to executive producer and co-writer BenDavid Grabinski, "If you think you know what you're going to see, you don't," in a recent Los Angeles Times interview.
Ancient China is the setting for The Apothecary Diaries, yet the plot differs significantly from previous historical plays. It centers on Maomao, a 17-year-old oddball who is abducted and made to serve in the Imperial Palace.
Instead of accepting her destiny, Maomao covertly begins working as a pharmacist, catching the attention of Jinshi, a powerful eunuch who is aware of her abilities. She ends up in the inner court of the emperor, where she solves numerous medical puzzles. The first episode will air on October 22, 2023.
The Saint's Magic Power is Omnipotent, a successful anime series, will also get a sequel in the fall of 2023. The anime, which is based on a light novel, follows Sei Takanashi as she navigates an unknown world in need of a living Saint.
Sei searches for a purpose in the strange world while being unaware of her magical abilities. As she aids the populace, she gradually starts to awaken her powers, and eventually, they begin to laud her as the kingdom's hero. There currently needs to be an official release date or trailer for the series.
The show is based on an Akira Amano Shonen manga. Totomaru Isshiki and Ron Kamonohashi, two detectives, are the main characters of the tale. Totomaru doesn't have the qualifications for the Metropolitan Police Department's investigating squad, but that doesn't stop him from attempting to assist others.
However, Ron, who was the most promising investigator five years ago, now leads a solitary existence. He is only a shell of his previous self who is no longer driven to work. Totomaru, however, could hold the key to helping him pick up where he left off.
Animation is a dynamic and creative medium that involves the creation of moving images, often with the illusion of motion, by displaying a series of individual, still shots in rapid succession.
These images, known as frames, are played in sequence to create the illusion of movement, similar to how a flipbook works. Animation can take many forms, from traditional hand-drawn Animation to computer-generated imagery (CGI) and stop-motion animation. Here are some key aspects and types of Animation:
This is one of the oldest forms of Animation, where individual frames are hand-drawn and then photographed or scanned into a sequence. Classic examples of traditional Animation include Disney's early works like "Snow White and the Seven Dwarfs" and "Cinderella."
3D Animation uses computer software to create three-dimensional objects and characters that move within a digital environment. It's widely used in contemporary animated films and video games. Examples include Pixar's "Toy Story" and DreamWorks' "Shrek."
In stop-motion animation, physical objects, and models are photographed frame by frame as they are manipulated slightly between shots. This gives the illusion of movement when the edges are played in sequence. Notable stop-motion films include "Coraline" and "The Nightmare Before Christmas."
A specific type of stop-motion animation, claymation uses malleable clay or plasticine figures and characters to create the Animation. "Wallace and Gromit" is a famous example of claymation.
This is a traditional animation technique where individual drawings, called cells, are placed over a static background to create the illusion of movement. It was widely used in early cartoons, such as Looney Tunes and Hanna-Barbera shows.
Animation is a versatile art form that can be used to tell stories, educate, entertain, and much more. It has found applications in various industries, including film, television, advertising, video games, education, and even scientific visualization.
Additionally, it has evolved significantly with advancements in technology, resulting in more sophisticated and realistic animation techniques.
Pluto by Naoki Urasawa and Scott Pilgrim by Bryan Lee O'Malley will finally have their long-awaited anime debuts on Netflix.
This October, as part of its Fall 2023 Season, HIDIVE will exclusively livestream the world premiere of The Vexations of a Shut-In Vampire Princess.
The last three years have seen Demon Slayer rule the anime world. The animated series is continuing strong and shows no signs of quitting, despite the manga series it is based on having ended.
Fall 2023 is shaping up to be a spectacular season for anime enthusiasts. With a mix of long-anticipated sequels and promising newcomers, there's something for everyone to look forward to. Whether you're a fan of action-packed adventures, heartwarming tales, supernatural mysteries, or dark fantasies, this season has it all.
So, make sure to mark your calendars, grab your favorite snacks, and prepare to be immersed in the captivating worlds and compelling stories of the most anticipated anime of Fall 2023. This season promises to offer a thrilling and unforgettable experience for anime fans around the world.